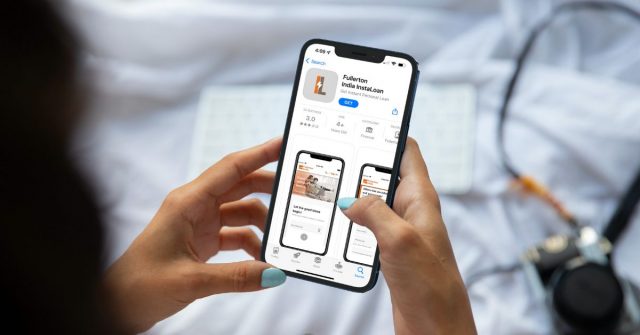 Personal loan apps are convenient for those needing instant finance without any hassle. People who need money to cover an unexpected expense can benefit from these apps. Money is often needed for emergencies like paying bills, covering medical expenses or settling credit card dues. Why not consider using an app for a personal loan, apply online and have it disbursed within no time?
Personal loan apps provide instant approval to borrowers and make it easier to get the needed funds online.
Why apply for a personal loan via apps
Here are the top reasons to apply for a personal loan through an app.
1. It saves time and effort
Most loan apps allow borrowers to apply for a loan and track their loan progress from their phone or other mobile devices, wherever they are. It can save time and money by avoiding traveling to a lender's office to apply or check the loan application status.
You can apply by simply providing relevant information and signing the loan papers digitally using apps such as the InstaLoan app from Fullerton India.
2. The apps are safe and secure
Personal loan apps are generally safe and secure. It is always important to research about an app before downloading it. Read the privacy policy to ensure that your personal information is secure.
To keep your applications for personal loans safe and secure, consider taking the following steps:
➢ Only download apps from trusted sources.
➢ Read reviews before downloading or installing an app.
➢ Update your app and device with the most recent security fixes.
3. Quick approval and instant cash
Applying for a personal loan online is significantly quicker. These loan applications available online are easy to use.
The application process through the app is expedited, and if approved, the funds will be promptly disbursed to your account. You get a cash loan faster than you could ever imagine.
Loan apps make it simple to apply for a personal loan. Instant loans do not keep borrowers waiting and offer immediate access to money.
4. Manage your loan online
The personal loan app may manage your loan by updating you on tasks. A single app will give you information like EMIs due with just one click.
5. Easy eligibility requirements
The loan application apps make it easy to obtain a loan amount, unlike earlier days when the process was stressful because of stringent eligibility requirements. The eligibility requirements have eased, and online apps make it easier to know these requirements.
Do note you have to meet the lender's eligibility requirements to get loan approval.
6. Minimal documentation
Another reason to apply for a personal loan via apps is minimal documentation. There is no lengthy paperwork that people of the 1900s faced.
Again, it is important to note that you have to complete the documentation to get the loan approved.
7. No restrictions on usage
One of the main advantages of personal loan apps is their versatility. Unlike home and car loans, which can only be used for specific purposes, personal loans can be used to meet a wide range of financial needs. It includes funding vacation expenses, wedding expenses, home renovations, education, and medical bills.
For example, a home loan can only be used to buy a property, and a car loan can only be used to purchase a vehicle. In contrast, personal loan apps offer greater flexibility and can be used to meet a wide range of financial needs.
8. Low-interest rates
Low-interest rates are another perk of personal loan apps. A higher credit score and a solid payback history can help secure a lower-interest-rate personal loan.
It is yet another significant aspect influencing the surge of consumers looking for the best personal loan app accessible.
The InstaLoan app from Fullerton India provides attractive interest rates between 11.99% and 36% with loan amounts up to Rs.25 lakh.
Conclusion
To summarise, personal loan apps have altered how people apply for loans by simplifying the procedure and making it easier and quicker. One must use such loan apps to apply for a loan online and benefit from their straightforward application process.
Additional Read: How To Become A Luxury Travel Advisor? A Complete Guide